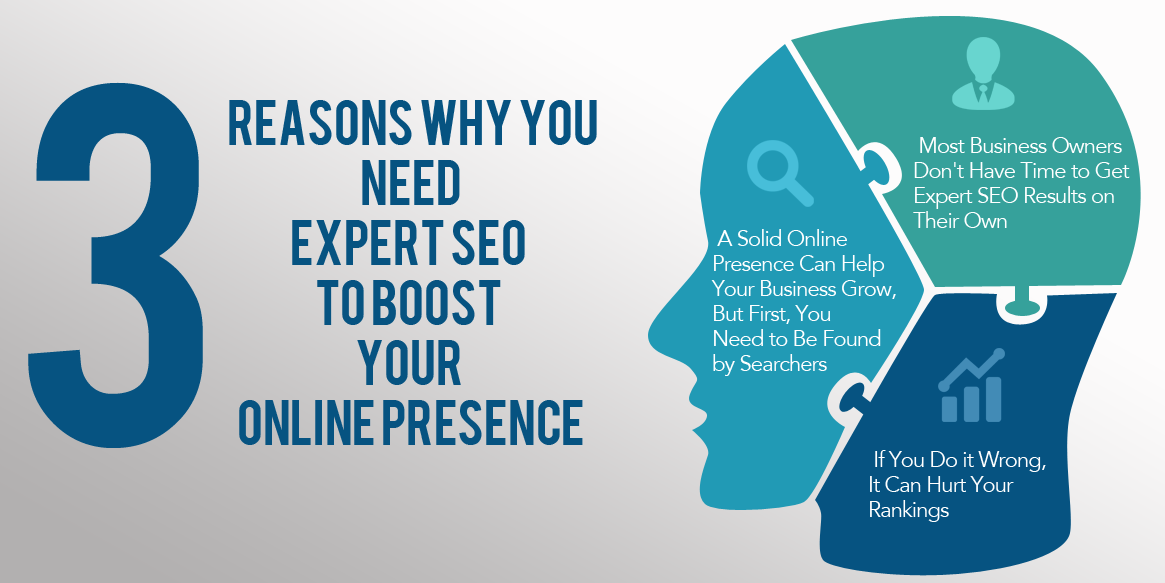 Many business owners overlook SEO and end up stunting the growth of their business as a result. Or worse, they try to do it themselves and end up with undesirable side effects. Here are 3 reasons why you need expert SEO to boost your online presence.
1. A Solid Online Presence Can Help Your Business Grow, But First, You Need to Be Found by Searchers
In order for an online presence to help your business grow, you need to be found by internet searchers. And with millions of websites on the internet, and new ones added every minute, there's a lot of competition for visibility.
Your best chance of being found online comes from having a visible online presence (for example, a professional-looking website full of useful content, and active social media accounts). But most business owners forget about the "visible" part of the equation. Sure, they have an online presence due to their website, for example, but internet searchers may not be finding it. Expert SEO help can fix that by increasing the odds that your website will rank on the first page of Google for desirable search terms, bringing piles of internet searchers to your website.

2. Most Business Owners Don't Have Time to Get Expert SEO Results on Their Own
Google is the most widely used search engine in the entire world and uses over 200 factors to determine rankings. That equates to information overload for most business owners.
If you're busy running a business, there's no way that you'll have time to learn everything you need to know about effective SEO and implement reliable strategies that get results. Good strategies take time – a lot of time. And your time will be better spent doing what you do best: running your business. Smart business owners know that they're better off hiring an SEO expert for improving their visibility and rankings in the internet search results.
3. If You Do it Wrong, It Can Hurt Your Rankings
Remember those 200 factors that Google uses to determine rankings? Experts in SEO know how to use those factors to your advantage, and get your business more traffic and leads from the search engines. But if you don't know how to play the game, and you do it wrong, Google could penalize your website and you'll end up worse off than you were before.
Expert SEO consultants understand how to optimize your website and build an effective strategy for ranking highly in the search engines, without hurting your business.

Smart Business Owners Use Expert SEO to Boost Their Online Presence
The smartest business owners know that the best way for them to increase profits, make more sales, and grow their business, is to focus on what they know best and outsource the rest. Hiring an expert SEO consultant can dramatically increase the visibility of your business online, increase the traffic to your website, avoid the punishing penalties that come with doing it wrong, and get measurable results that lead to profits.