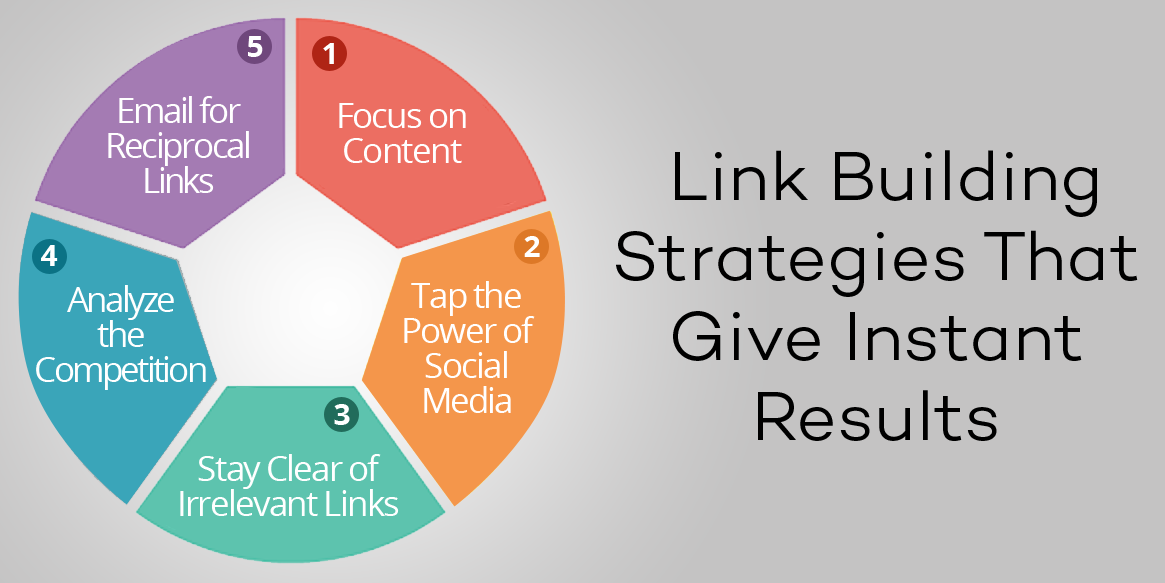 Link building refers to getting links on other websites that improves the trustworthiness of your website as well as increasing your ranking in Google search results and other search engines.
You would, on the increase, hear that link building is a black hat SEO technique, which means it violates guidelines set by Google and equitable to web spam. However, this is not the exact truth, as natural link building is not spamming the web and an acceptable SEO technique, which is very important to build your online presence effectively.
Here are some link building strategies for instant results.
Focus on Content – As Google came down on heavy on low quality content and unnatural links, the signal could not be much clearer – Content is King; and it continues to rule. Focus on creating quality content; it is the best strategy to drive links (organic ones) to your website. Once you have crafted unique content, generate awareness about it to get natural links from websites or pages that want to be linked to you.
Tap the power of social media – Use the social media to your advantage to tell the world about your website. Writing a useful blog and leveraging Facebook, LinkedIn, Twitter, Instagram, Stumbleupon, Pinterest and other such sites can drive people's focus towards your page. And indeed, if your page contains quality content that is useful for the readers, they would definitely link back.
Stay clear of irrelevant links – Well, while it would be perfect to get links from top pages in your industry segment, as per the latest guidelines from Google, the best link is an organic one – whether from a niche website or not, whether related or not, it should be an 'earned' link, and not a paid one.
Analyze the competition – It is a good practice to check what links your competition has 'earned' and how… However, it will not be a good idea to simply replicate their strategy. Think and analyze what will work best for you – can you modify the strategy to make it do better for you?
Email for reciprocal links – DO NOT send or respond to emails asking for reciprocal links to websites, as this kind of reciprocal practice is not appreciated by Google and can lead to lower rankings for your website. As a practice, ignore reciprocal linking requests, especially from unrelated websites. On the other hand, there is no harm in linking with an unrelated website if the part you are linking to is relevant to the content on your website.
If carefully employed, link building is an essential tool for increasing your online presence. In fact, without links, the World Wide Web can be a difficult place to traverse, even for search engines. Simply stay away from bad quality links and focus on high quality content and earned links for your page.