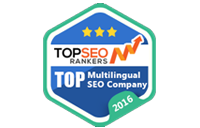 Finding a good SEO company can be hard, but finding and managing several SEO companies that deliver high quality services can be a real headache. However, this is the situation that many international online stores and businesses have to deal with.This is why we've compiled this list.
If you have to run an SEO campaign in multiple languages, finding the right multilingual SEO company can save you time, money and energy. With a multilingual SEO company you can address regional requirements for SEO, and rank high across a variety of international markets. A multilingual SEO company will also be able to provide package deals, which will come with a discount. On the other hand, dealing with two or more SEO companies, where there could possibly be a language barrier as well, will net a worse deal generally. The companies on this list are the best multilingual SEO companies for the month of November 2016.
Search Laboratory is an award-winning integrated digital marketing and online PR agency with offices in Leeds, London and New York.

Spray Marketing is a full service agency that deliver compelling digital marketing solution. Our team of specialists consistently deliver outstanding results for our clients.

Neoteric UK can give your business the very best chance of becoming a recognised brand with an influential online presence.

MintTwist is an international digital agency working with businesses to create more value from their online channels.

Gloc Media is a different digital marketing agency. We provide our clients with a glocalised, synergistic, organic and bespoke online marketing approach.

HookedOnMedia are a cutting edge online marketing company. Our team of dedicated search professionals keep you ahead of the competition in the field of digital marketing.

Digital Search Group Limited is a performance driven online marketing agency built on highly knowledgeable foundations, which have grown over 9 years of providing online marketing & web services.

JDR Group specialise in working with businesses that provide products and services to other businesses or organisations (i.e. business to business rather than business to consumer).

WMG is a fast-growing digital agency with a focus on data and ROI through delivering SEO, PPC, Content Marketing and International Search.