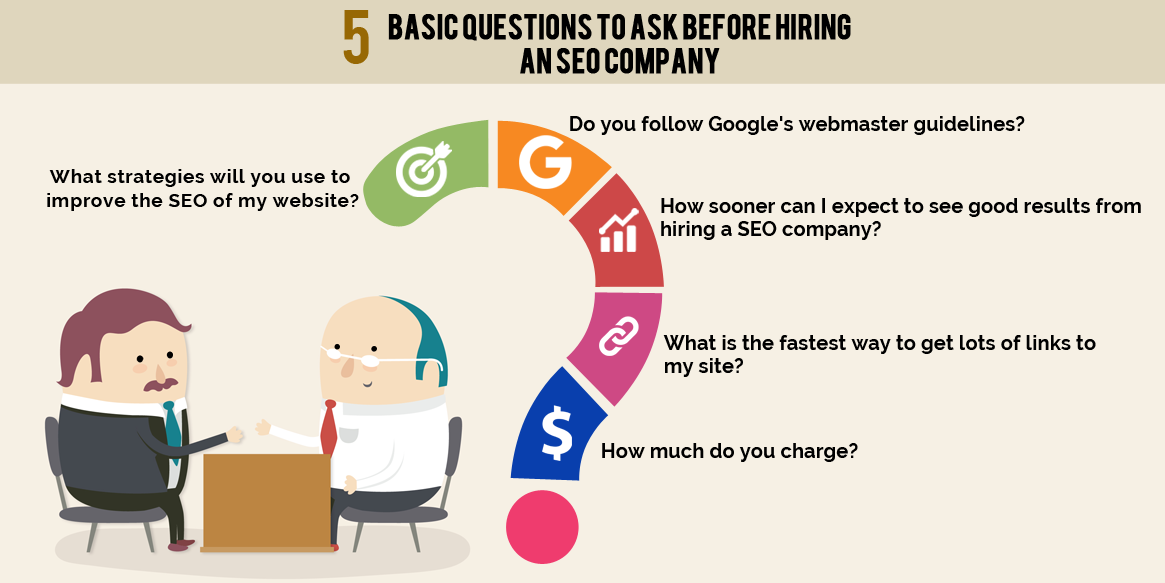 It's important to ensure that you're getting top-notch expertise when hiring an SEO company. Before you sign a contract, make sure they're the right fit for you and your business by getting answers to these 5 basic questions.

1. What strategies will you use to improve the SEO of my website?
A reputable SEO company will always disclose their methods to a client. Any company that refuses to do so likely has something to hide that they don't want you to know about. There are some disreputable so-called "experts" who use black-hat techniques that can end up harming a website's search engine rankings in the long turn, or even cause the website to get removed from Google's search engine listings altogether. Minimize your risk of falling victim to such schemes by always finding out exactly how your SEO expert will improve your rankings.
2. What are the results that I can expect to see from hiring an SEO company like yours and how soon should I expect to see those results?
A true expert in SEO will have enough experience to give you reasonably accurate forecasts of the results that you can expect from their work. This will be based on their past experience and the competitiveness of the market that you're in. But beware of anyone who promises you that they can rank you #1 in Google. No-one other than Google can guarantee that, and they're not selling such services!
Also, be wary of anyone who offers you a guaranteed time-line for results. That being said, it is reasonable to expect a rough estimate.
3. Do you follow Google's webmaster guidelines?
It's very important that any SEO company you hire follows Google's webmaster guidelines. Following Google's recommended best practices increases the odds that your website will not only appear in Google's search index, but rank highly too.
4. What is the fastest way to get lots of links to my site?
This is a trick question in a way, but can be useful to separate the reputable SEO companies from the bad ones. A good SEO consultant will say something along the lines of "There isn't a fast way to build links, quality takes time." Whereas an unqualified SEO consultant will start to brag about how they can build you hundreds of links all over the internet (which, you'll come to find out, are not legitimate methods of building them and can lead to Google penalizing your website in the search engine rankings.)
5. How much do you charge?
Find out how much they'll be charging you for their services, and whether or not the SEO company will be billing you by the hour, or in a lump sum for the entire project. Be sure to get in writing exactly what tasks they'll be doing and/or results you should expect for your money.
Always Get The Answers You Need Before Hiring an SEO Company
It's not cheap to get quality help with your SEO strategies. So don't rush the hiring process and take the time you need to get the answers you need to make an informed decision. You need to make sure that your money will be put to good use and get you the results that you're looking for.