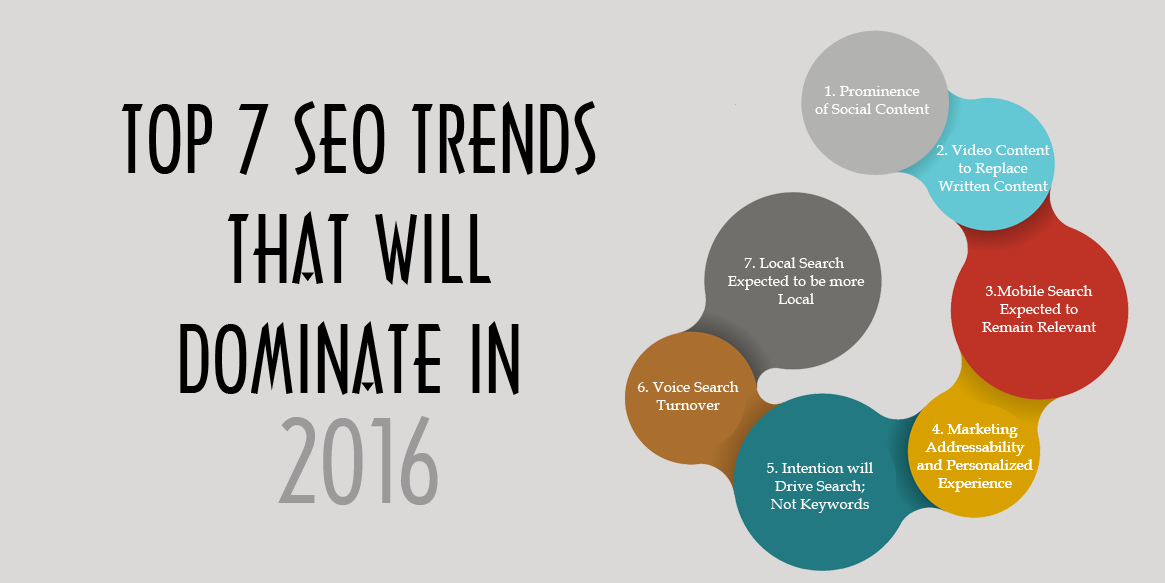 Analysts and experts are of the opinion that 2015 was an exclusive year for SE0 due to the many updates the industry experienced. Mobile friendly algorithm that was a major game changer, for instance, was highly talked of in 2015. As a result, many non-mobile friendly sites were penalized by Google. Given that 2015 was mobile friendly, drastic changes in terms of user experience are expected in 2016. The online marketing industry is complex; and only fast adopters get a leg on the competition, painting their reputation as the leaders of the industry. The companies and businesses that lag behind end up missing out on key opportunities of retaining their positions.
SE0 has gone a notch higher, where it is no longer enough for businesses to rely on the web presence for sale promotion or striking deals. While many businesses are keeping up the trend of making huge investments in the digital marketing and creating diverse content, the search engines are on the other hand shifting focus from content and giving power to usability across devices.
Given that digital presence and web activities across various platforms are not enough to keep you on your toes against your competitors, it is highly vital to know the SE0 trends that will begin to unfold in 2016.
1. Prominence of Social Content
In 2016, social media content from sites such as Linkedln, Facebook and Twitter will gain prominence on the SERPs. So far, at least, 76% of both local and international marketers use social media for their SE0 boost. It is expected that a high percentage will use social media more aggressively in the year to get a higher ranking on SERPs. It is also expected that the content found on social media will have indexed popular search engines like Google, Yahoo and Bing. This move will blur the line between social media content and web content in matters SEQ.
For maximum visibility, therefore, it is up to you to get ready for total optimization on your page. Social media profiles appear in the top results of search listings for brand names. For example, if you are searching for a particular company under name 5111X', the company's Twitter page, Linkedln, Facebook page and all other pages will appear in the top listings.
2. Video Content to Replace Written Content
In today's market, written content is not enough. Users are looking for something more interesting and engaging every day. Despite the SE0 experts' citing that if any content is published in different formats, it will have the most impact on users, written content is still considered as standard. All content that appears in the written form is usually a baseline for bigger brands with infographics, video, and images. In 2016, there will be a major turnaround in business promotion. Videos are expected to outshine written content in terms of user engagement, and effectiveness.
It will also be responsible for increased ROI. B2C brands that will be lacking daily video feeds will, unfortunately, lag behind, lose traffic, and get overtaken by competitors that have the feeds.
3. Mobile Search Expected to Remain Relevant
Do you have a mobile friendly business website? Your consumers are no longer in one place. People are using all sorts of devices including smartphones, tablets, phone watches, and laptops to browse the web these days. Mobile optimization will very quickly become the norm. Therefore, it is the high time you quickly changed your conceptualization and created SE0 strategies for the mobile searches. So far, mobile search is in the same class as desktop search volume wise, and this is a trend that will seriously accelerate. In fact, it is expected that mobile search will surpass desktop search.
Recently; and credit to faster networks, mobile browser capacity, and many websites that embrace a friendlier design, the mobile web has already made native apps appear bleak. It is believed that that it is just a tip of the big story because any time from now the mobile web will be looked at as the web in general. Websites that lack mobile optimization will become irrelevant with time, given that mobile friendly designs (that will within no time become search engine criterion) are already Google's search engine algorithm.
4. Marketing Address-ability and Personalized Experience
First party data will be increasingly leveraged to help increase content experience. At the same time, the content will be pushed to perform well in the organic search. Data will also be leveraged to help understand the strategies and cross-channel performance between organic search and display and organic and paid search. The future is leveraging SE0 and data as a vital part of the attribution funnel, as well as its relation to the digital marketing strategy.
5. Intention will Drive Search; Not Keywords
The keyword search era has been passed by time Relevant search will not depend on what you type anymore. Search engines can now assess your intention from your interactions with the web and give the most relevant results. Searching will get more intuitive, and this will save users a lot of time and browsing effort.
6. Voice Search Turnover
In recent times, a lot of people prefer voice search due to its convenience, especially when one is driving or multitasking. This is becoming a part of mobile usage that cannot be ignored. In recent times. almost every mobile device contains a voice search function. Microsoft, Apple, and Google have spurred the popularity of voice searches after launching special versions of voice-responsive assistants – Siri, Cortana, and Google Now. What will be important is for the users to use easily search-able content by the use of long tail keywords likely to be spoken as opposed to conventional keywords.
7. Local Search Expected to be more Local
Local searches are expected to gain solid ground in 2016. This is a trend that was expected to be flagged off in 2015, but SE0 analysts say it will be put into action in 2016. Since the release and introduction of wearable gadgets is already in place, it is expected that Google's local indexes will give way to more possibilities of local searches. Rather than identifying companies according to their state or region, the search will be dependent on the street corner or neighborhood. The superiority of
Google will therefore increasingly help users get more precise local searches. The local businesses will greatly benefit and register more sales of their products.